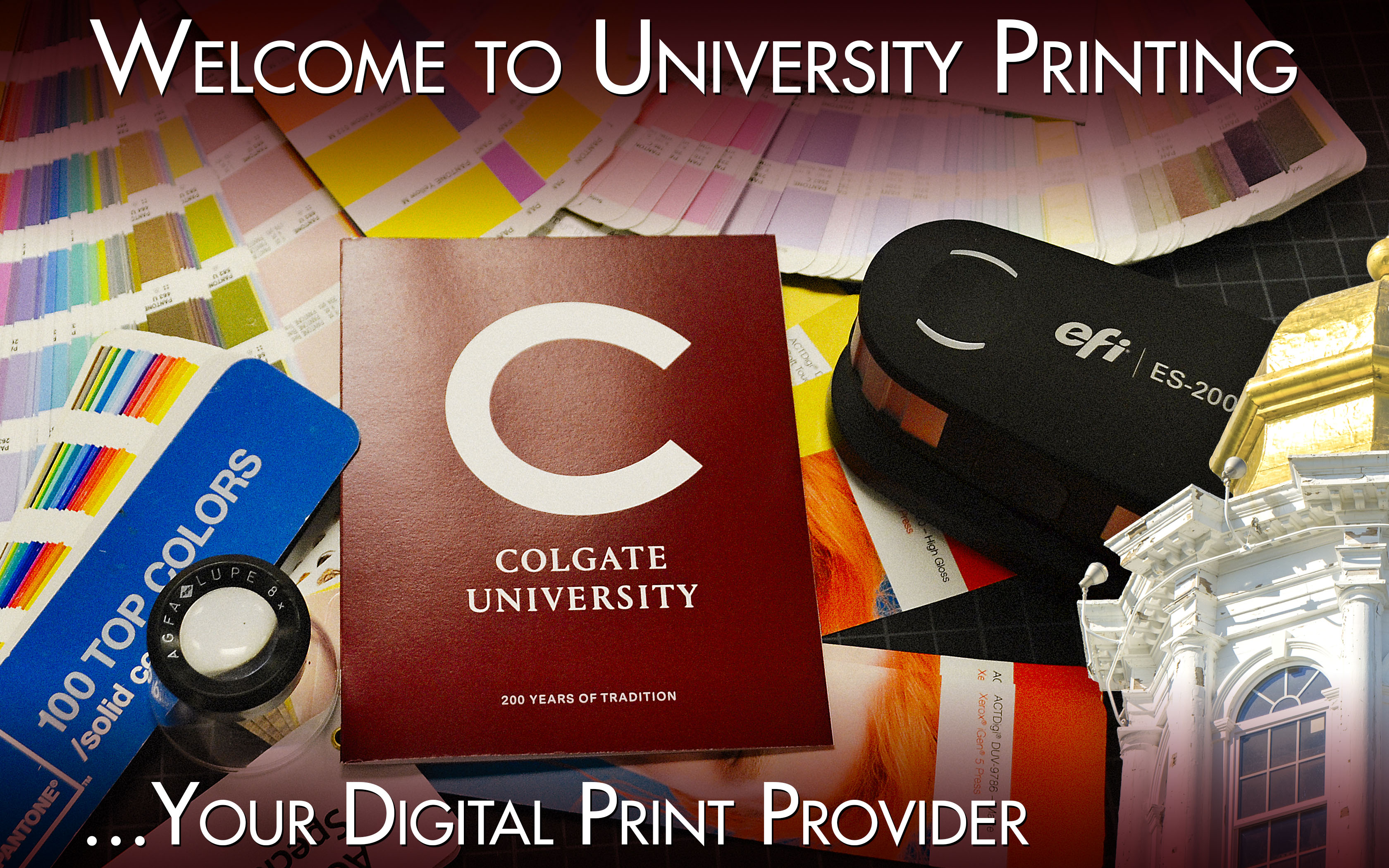 ---
---
This Is Your Online Print Order System
Located on the lower level of O'Connor Campus Center, University Printing provides high quality digital printing from a digital-based image onto a variety of media, using high-volume or professional large-format printers while using the latest in publishing software. These digital print innovations allow you ample options for you to customize your idea in print. Our graphic designers are here to help students, faculty, and staff create pleasing and eye catching graphics for projects that need to suit your specific intent. University Printing also provides a full array of bindery options that allow your finished product to secure a lasting impression. University printing also offers mailing services with data merge technologies allowing your postal document to be streamlined so your letters or documents are in the hands of the addressee sooner than later. We also offer copyright clearance for those documents you cannot do without. University Printing also produces course packets for the many disciplines across campus, which are available through the Colgate Bookstore.

We encourage customers to submit all work in their native digital format, whether Mac or PC based. We accept any files whether they are one of the many Adobe Creative Cloud softwares (InDesign, Photoshop, Illustrator, and etc.) or any component of Microsoft Office. We also accept Adobe Acrobat PDFs. We do ask that you submit files that use specific Pantone+ Solid Coated swatch colors. This ensures accurate color for your projects. However, if you're in doubt just give us a call.
Services Offered
Graphic Design and Image Editing

Digital Prepress, Preflighting, and Scanning

On-Demand Digital Color Printing

High Volume Black-and-White Printing

Wide Format Printing and Mounting

Data List Maintenance

Presorted Mailings and Matched Mailings

Wide Format Print Project Management

Provide Branding Continuity

Copyright Clearance

And Much More
Contact University Printing and we'll assist you with your graphic design,
digital printing, photo-copying, or your wide format printing needs.
Our staff is available
8:00 a.m. - 4:30 p.m., Monday - Friday
Looking for someone specific?
Review our staff page for e-mail addresses and phone numbers.
Telephone: 315-228-7487
E-mail: printing@colgate.edu
Fax: 315-228-7892
---